Nikkan Tokushu Business Lineup
Providing optimal solutions in response to various needs for water treatment, proposing next-generation eco-friendly city models to build a recycling society in which resources are utilized, and creating affluent and comfortable living environments
UMEDA PROCESSOR (Sludge Reduction and Biomass Creation)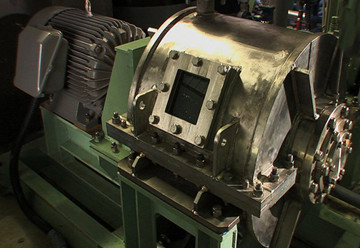 Acquired a Construction Technology Examination Certificate with Nikkan's patent sewage technology!
Sludge discharge

94%

Significant
reduction!

Running costs

1/2

Significant
reduction!

Water content

99%

To

4%
Can be installed on an existing sludge disposal line.
Reduces sludge volume by half, and doubles biomass energy.

The UMEDA PROCESSOR (high-speed rotating disk) crushes cell membranes of microorganisms in sludge and extracts proteins, carbohydrates, fats, CO2, and H2O to improve dehydration efficiency. This helps reduce the amount of solid materials to be transferred.
Use of the equipment can improve the digestion efficiency of a digester tank from the conventional rate of 40% to 60–80%. This enables an increased amount of digestion gas generated in the digester tank, thereby allowing a highly efficient supply of energy. The equipment is used in food manufacturing facilities. Furthermore, it can withstand continuous operation by crushing a large amount of microalgae. The UMEDA PROCESSOR is characterized by its low technology use, low cost, and high quality.
Merits of introducing the UMEDA PROCESSOR
Comparison of digestion efficiencies of the digester tank in the facility
Existing facility

After introducing the UMEDA PROCESSOR
Compared with the rates for the existing facility before the UMEDA PROCESSOR was introduced, the equipment can improve dehydration efficiency, reduce water content and the quantity of solid cakes to be transferred, and increase the digestion efficiency of the digester tank from the conventional rate of 40% to 60–80%.
MERIT

1

Increases water
content in the
dehydration process.

MERIT

2

Reduces transferred
sludge by half.

MERIT

3

Shortens the digestion
reaction period by half.

MERIT

4

Can be installed
on an existing
sludge disposal line.

MERIT

5

Minimizes the sludge
volume in the facility.
Water content in
concentrated sludge

Reaction speed in
digester tank

Water content in
dehydrated cakes

Water content in
drying process

Water content in
incineration process
An increased amount of digestion gas generated in the digester tank enables a stable and highly efficient supply of gas with high calorific value, which can be effectively used as local biomass energy.
Wastewater Treatment Facility
Eliminates personnel for operation and maintenance at the facility. Next-generation advanced treatment system to achieve zero emissions by reducing the volume of sludge and collecting biomass energy. Uses low technology at low cost and provides high quality.
Confluent Sewerage Treatment System for Water Quality Improvement
Reduces the equipment footprint and improves maintenance quality at the sewerage treatment facility where wastewater and rainwater are treated at the same time. The treatment capacity is equivalent to that of five or more conventional sedimentation tanks.
Sewage Treatment Facility
Adopts an ICT-based remote control system. Aims to reduce operating costs and provide convenient and intelligent control for the sewage treatment facility.
Renewable Energy
Produces new energy without CO2 emissions. Prevents climate change by reducing greenhouse gas emissions and the risk of global disasters.
Water Treatment & Membrane Separation System
Treats water with innovative technology. Separates water and sludge to release clean water to rivers and seas. Treated water can be recycled. Provides easy operation and maintenance.
Urban Development Business (Smart House)
Efficiently controls the transmission and receiving of power with ICT between electricity producers and users. Maintains security and prevents disasters with ICT. Develops practical smart cities. Aims to generate renewable energy only (100% renewable energy). Uses solar, wind, and biomass power generation systems, geothermal and earth thermal heat pump systems, and the heat of hot spring water from 1,500 meters underground. Utilizes energy-saving construction and other materials and adopts heat insulating paints, dry mist, etc. for smart houses.
Real-estate Development Business
Promises houses and living environments that will shine forever like the North Star.
Welfare Business
Provides environments like one's own home so that people can lead liberated and healthy lifestyles every day.
Funeral Service
Tottori Chubu Furusato Saijo, funeral hall built in a quiet and peaceful area, providing a place for the end of life.